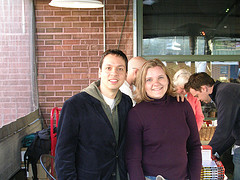 I'm a nerd, but I'm not nerdcore. I don't play video games, I don't read science fiction and I don't get into Star Trek. I didn't even start reading blogs until about 3 months ago. When we hosted Markos of DailyKos at Drinking Liberally, I understood he had a popular liberal blog, I just didn't know how popular. About the only thing that makes me a nerd is the fact I spend so much time in front of a computer, and then of course my lack of social skills.
So what does any of this have to do with politics? Today I ran across a post on Open Left from one of Drinking Liberally's sister groups, Laughing Liberally. Apparently, one of Laughing Liberally's comics, Negin Farsad, is part of the Nerdcore Rising project. Here's Negin's video:
Watching the video, I noticed a few familiar faces – Markos, of course, but also Justin Krebs (the Drinking Liberally national founder, director, and all-around good guy), and David Dayen of Calitics.com (he's the guy in the video who has his badge from last year). David is one of the hosts of the Hollywood Drinking Liberally chapter, whom I met at the DL national conference this year. I also met Mike Lux, a blogger for Open Left and former Special Assistant to President Clinton. Mike is another prominent blogger I had to sheepishly admit I didn't know.
I'm getting closer to nerdcore every day though. Heather and I went to MC Frontalot's show a few weeks ago. Frontalot started the whole Nerdcore Rising movement, and he puts on a hell of a show. I have to say Schaffer the Darklord stole the show though. If either of these guys ever come through Salt Lake again, and you're a nerd, definitely check them out.