Anticipatory liberals,
Before we get into the other stuff, we want to first tell you the big news we've been alluding to: Living Liberally has said "This is the place!" to hold the national Living Liberally conference! Chapter hosts from Drinking, Eating, Reading, Laughing, and Screening Liberally will be coming from all over the country to visit our city at the end of September and plan the next year of Living Liberally.
We'd like to form a committee of planners for this conference, so if you're interested in helping us promote and plan this, let us know. Also if you know of any local businesses who'd be willing to sponsor food/drinks/space for the party, just reply to this email. Heather will be spearheading this effort.
---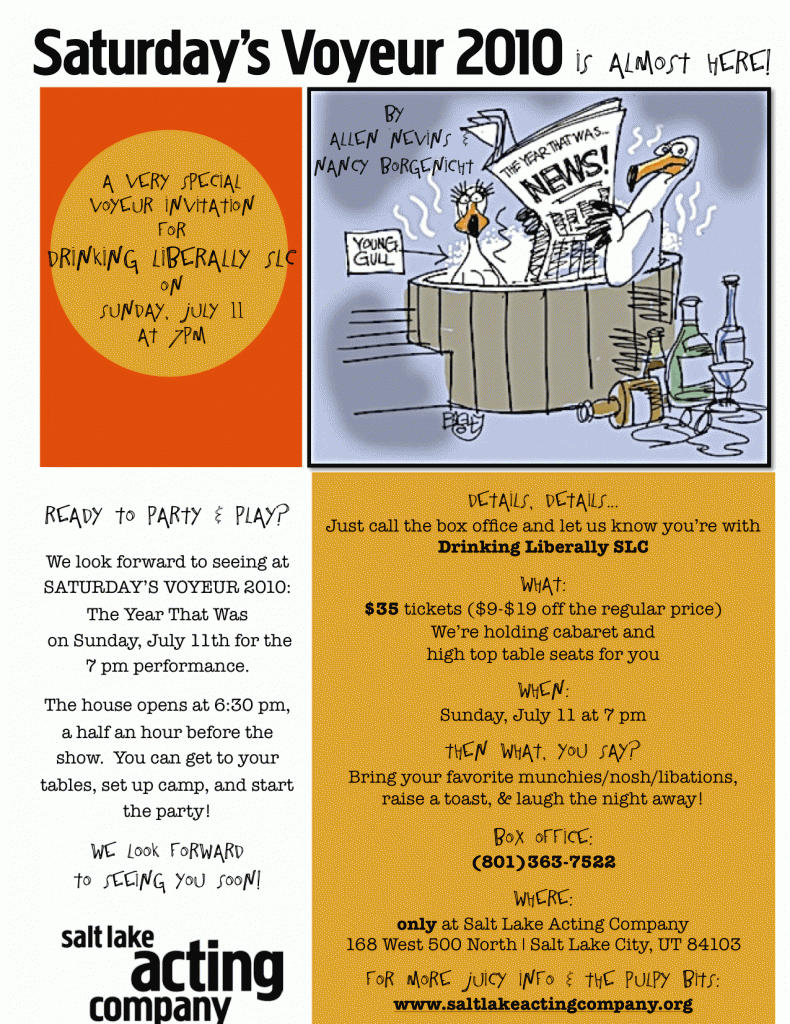 Once again, this year we'll be going to Salt Lake Acting Company's hilarious cabaret, Saturday's Voyeur. If you love good satire on Utah culture and current events, you should plan on joining us for this. We've got 4 tables reserved for the 7pm show on Sunday, July 11th, plus plenty of regular seating.
The tables will go to the first 16 who call and ask for them, so if you want a table call soon. When you tell them you're with Drinking Liberally SLC, they'll put you with the rest of us AND you get the tickets for $35 each, which is $9-$19 off regular price! Box office number is (801)363-7522.
We'll also be having drinks and BBQ before the show, stay tuned for more info on that.
---
Our next meetup will be Friday, June 11th. We've invited the left-leaning candidates who will be going to primary to join us for another Meet & Drink. Those invited include Jim Matheson and Claudia Wright in US House District 2; Joel Briscoe and Anthony Kaye for Utah House District 25; and Cal Noyce and Arlyn Bradshaw for County Council 1. If you're not sure who you'll vote for in the primary, June 11th would be the time to talk to the candidates (at least those who can make it).
That's it for now. See you on the 11th!
Laura & Jeremiah
Drinking Liberally SLC meets from 6:30-9:30 every second and fourth Friday in the back room of the Piper Down (1492 S. State Street).
Drinking Liberally SLC
,
Reading Liberally SLC
Facebook
,
Twitter
,
Flickr
———————————————–
Do you appreciate truly independent, truly progressive media? Then support Laura Flanders in the GRITtv Chellenge.
Unsubscribe from future messages from Living Liberally.
Living Liberally | 425 West 45th Street, 3FE | New York, NY 10036 | US